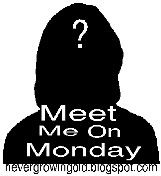 Java, from Never Growing Older wrote,"Blogging is a funny thing...we tell our most intimate thoughts for all to read and yet most of the time I find myself sitting and wondering, "who is this person!?" I know them...but yet I don't know them! I want to know who the person is behind all those words so I thought of a great way for all of us to "meet" each other!"
Every Sunday Java will post five get to know you questions that you can copy and paste into your own Monday post and we can all learn a little more about each and every one of us!!
"Its a great way to to meet new friends and for others to get to know me better....one Monday at a time!!!"....as quoted by the Chacogirl!! I will make this SIMPLE and FUN!!!
Java will add a linky so we can follow who participates and get to know each other better!! Be sure to link the POST and not just your whole blog
QUESTIONS
:
1.
How many TV's do you have in your home
? If you can believe it. We only have one!! So we fight over the TV and my computer. I actually want more computers than TVs. We just take turns on watching TV. Luckily we have DVR and can record our favorite shows. :)
2.
What is on your bedside table (nightstand
)? lamp, book, cell phone (charger is nearby), housephone, radio clock, book and magazine.
3.
How many pair of shoes do you own
? 15. mostly in black and tan. I do have one pink, one red and one gold pair. My shoes are mostly flats but a few high heeled pumps and sandles.
4.
Can you change a flat tire
? I know what you do but I've never done it.
5.
Do you prefer sweet treats or salty treats
?
Sweets!!