Today I'm going to do my first tutorial. I was able to fix my old camera so now I can do more show and tells. I wanted a clip board to hang on the wall by my desk where I do my computer work. Since I sell stuff on ebay and blog I'm at my desk a lot. I wanted to clip board to be pretty. I decided to decorate one.
The materials you need are: plain clipboard, scrappaper (get more than one of the same pattern incase you make a mistake. Some clip art, stickers or any thing you want to embellish the board. Craft paint to match the scrap paper. Modpodge or any decopauge glue. One foam paint brush. One sharp edged card like an old credit card or library card.
First turn over your scrap paper and trace the bulleton board. You want to clip the paper right under the top part of the clip.
Once you see that the paper fits perfectly you paint the top of the clip board to match. Paint down a few inches more than will show. Let dry.
Glue the scrap paper on to the board. Make sure it's in place with the top even before gluing in place. Let the glue dry.
When this is dry, cover the whole clip board with decopauge glue. Let that dry. Then cover it with glue again. Between glue times you want to use the sharp edged card to smooth out the glue bubbles. The paper will start to pucker. Keep on smoothing because you want a smooth surface for writing on.
Let everything dry. Now is the fun part. Add what decorations you want. I got these clip art from The Graphic Fairy.
This one I got from an image from google images. I love the bold lines. I think it's a vinyl wall sticker. I just sized it to fit the board.
I printed the images on different colored paper and scrapbook paper. Then created a document with the store's name "Kat's Purrfect Boutique" and printed that on darker pink paper (see below).
Images glued in place
Here is the finished product.
Clipboard for Office Area Wall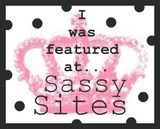 I'm linking this blog to Pink Saturday
and The Girl Creatve