Like I say, better late than never.
Welcome to the 10th edition of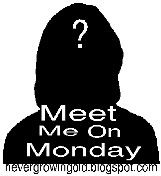 Questions:
1. What is your favorite dessert?
Brownies
2. What do you wear to bed?
Target Flamingo P.J.'s with Pink Shirt

I love these P.J. pants because they are lime green with pink flamingoes
and the house on the pants looks like the house I grew up in.
3. Do you get regular manicures/pedicures?
I wish!! I need pedicures because my feet get really rough (too much walking barefoot).
4. Did you play any sports in high school?
I took Modern Dance for a few years.
5. Do you have an iPod?
No, but my daughter bought her own a few years ago (with birthday and Christmas money).