Another Edition of Meet Me Up Monday: Getting to know fellow bloggers one answer at a time.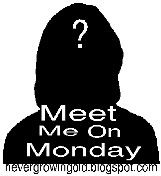 1. What one food could you eat every single day?
2. Do you wear glasses or contacts?
3. What kind of cell phone do you have?
4. What did you have for dinner last night?
Chicken, pasta and salad buffet at my high school reunion.
Lemon cake for dessert with Starbuck's Coffee.
5. What is your favorite candy?