Today I found a new blog called: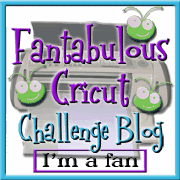 I have an old cricut and I'll admit only one cartridge. Anyways, I knew I had basic shapes so I cut out diamonds in Halloween Paper to create mini pendants. I made the pendants 2 inches to 4 inches and added cute stickers I bought at Walmart.
To create the banner, I glued the pendants on a string. For next year I'm going to make a mini Halloween box/house for my Halloween Barbie that I talked about yesterday. I'll save this project for my Halloween Shadow Box, for Halloween 2015.
Thanks for looking at my simple project.