Over a month ago I won a sketch from Amy @ Maison's Decor, of my house. I told her, in the entry, that I wanted the sketch so that my daughter had a sketch to remember the house she lived in when she was born. We have lived here for 14 years. My daughter will be 14 in November. Here is the post I talked about winning.
Here are a few pictures that I sent her:
This morning I
opened my igoogle.com page and found that Amy had blogged about my sketch. Wow!!! Talk about feeling popular. Her blog says, Sketch of Kat's House. My house!!!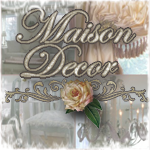 I feel so honored to have won the contest and to have a sketch to remember my home forever, even if I move. Thanks Amy!!!