Do you ever wonder who you are blogging with? Well Java at
Never Growing Old
has created
Meet up Monday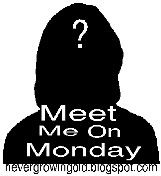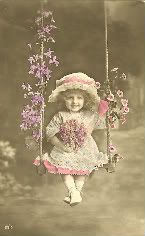 Check out her
beauty secrets
. Did you know that pepto-bismal makes a great face mask? lol
Here are the weekly questions:
Questions:
1. What is your favorite sandwich?
Peanut Butter and Jelly at home and a Turkey with Avacodo Subway sandwich (from Togos too).
2. What is stashed under your bed/mattress?
I have bed risers
so I can store all sorts of stuff. Books for my book exchange
, office supplies, craft projects, socks
to sort and need to be hidden from the cats (they love to carry them around the house and meow like they found a gift). lol
3. What is your favorite flower? hydrangeas
4. What is your favorite magazine? Better Homes and Garden
5. How often do you weigh yourself?
only at the Drs, so a few times a year.
Find Monday Questions on Sunday