I found these wonderful Easter Freebies at Free Vintage Digital Stamps.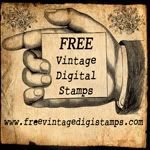 I like to share where I get my images from and this is one of the websites I mention in my pages.
Here are Easter Images I've never seen before. When you go to their website, look at the right side bar for Easter.
The next section of images are both Jpg and Png (transparent background). I love when I can find pngs because I can easily use it with other backgrounds.
Here is a Bunny Bookmark I created. You may click right click to copy it to your files too.
Here is the whole page and each bookmark cropped to size.