I was just informed that I won a giveaway contest at Today's Gold blog. I found this blog by looking at the guest list of Vanessa's A Fanciful Twist's Halloween Party. Since I am the same age that Princess Di would have been I wanted the ring. For those younger folks, she's the mother of Prince William. My daughter reminded me that her friends don't know Princess Di, but know her as Diana. That was when I ran down the hallway and said I won the ring. :) I've having a bad day so I needed something to cheer me up.
Anyways, here is a description of the ring (I got this from Today's Gold's post):
PRINCESS INSPIRED ROYAL WEDDING RING VINTAGE 1980s
* This elegant Princess Inspired Royal Wedding Ring features a prong set Cubic Zirconia Crystal Cut Sapphire oval center stone & 14 Brilliant Cut prong set clear CZ Diamonds ~ Crystals around the main stone which sits a 1/4" above the finger.
* The setting has a silver alloy finish that has the look of silver or white gold & a beautiful Crown Gallery.
* Vintage Circa 1980s. That's right, vintage approximately 30 years old. This is one of the first costume jewelry Princess Inspired Royal Wedding Rings.
* A Beautiful Princess Inspired Keepsake & Collectible that also includes a pretty black velour pull string jewelry pouch. AND if this is not your size: 8 1/2" you can always wear it on your favorite chain or use the included pretty silk lavender tassel cord to turn your beautiful Princess ring into a magickal dowser ~ crystal rings make incredible dowsers. GOOD LUCK...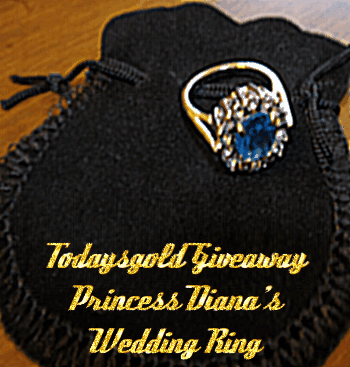 I'm thrilled and excited and honored to win this prize. Thanks, Lyndy
Read why she chose me:
And The Lucky Winner Is...
KATHARINE DEVINNEY ~
KATS PURRFECT BOUTIQUE
CONGRATS 'KAT' & HAPPY BIRTHDAY TOO!!!
Your sweet comment, beautiful link for my Halloween Party, following me, (I'm following you too) & that you were born the same year as Lady Di, your birth date & you had me at Happy Blogaversary were all the reasons why Lady Lucky picked you... :)
Please go and check out Lady Luck aka Lyndy's blog and see the vintage stuff she sells.