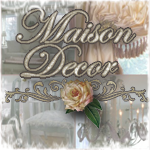 I'm so excited because I won the giveaway at Maison Decor I'm doing a Shabby Chic look in my bedroom and love to look at Blogs that talk about that type of decorating. Most of the time I just drool at the pictures, but I get good ideas too. Anyways, Amy, the author of Maison Decor does these amazing sketches for her Interior Design Business, Maison Decor. She offered to create a sketch of one reader's house. She decided she wants to give it to four readers, and I'm one of them. Here is the Give Away winners post.
At first I looked and thought..isn't Kat from California me? and then I remembered that is how my Google Blog signature looks.
I'm so excited! Now I have to find an amazing picture or the house and email it to her. This is the home where we lived when Natalie was born and the first home we have owned, so it a special place. No matter where we end up, in the future, this home will have a special place in our heart.
Amy did this sketch of her house.
Now I'm going to send her a pictures of my house. I can ask Amy to make it more of a fantasy too, like an porch swing or picket fence. Hmm....I'm going to think about this. Right now we have Night Blooming Jasmine on our front Trellis, but I want fantasy flowers too. Why not! Most of my plants are drought resistant but I do like to mix in roses too. The roses love the heat in the summer and can survive our harsh winters (well harsh for Southern California, lol).
My house in the spring time.
Close up of the porch.
Once I get my sketch I will show how it looks on my blog, so look out for a future post. :)
Note to Amy: I'm going to email you more pictures than this to help with the house details. Again, Thanks!!
Speaking of Give Aways, I've been contacted by CSN to do another giveaway. This time they are offering $35 to buy the item you want from any CSN store. See my next post for more details.