Java at
Never Growing Old
started "Meet Me on Monday" 11 weeks ago. She started this because we don't always know the people that we blog with but we are willing to share our intimate secrets. She posts diffent questions every week and have us link our posts to her blog. She posts them on Sunday night so we have time to answer before Monday. Join us, it's fun!!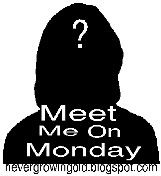 Eleventh Edition "Meet me on Monday"
Questions are:
1. What is your favorite kind of doughnut?
I LOVEEEEE! Crumb donuts and I'll admit I ate 2 this past Saturday. Luckily I don't get donuts all the time.
2. How often do you pray?
At least once a week. I used to pray more often. Now Ipray when I feel the need. I should praise the Lord more often.
3. What is your favorite kind of music?
I love all kinds of music: Pop, Classical, Country, Salsa, Swedish Folk Music and more.
4. What do you order when you eat Chinese food?
Kung Po Chicken, Moo Shu Pork, Ragoons (or Cream cheese Wantons) & Sizzling Rice Soup
5. Would you rather snowboard in the winter or swim in the summer?
I love Swimming and my dream is to have a pool one day.